Budgeting On the Go
With smartphones in hand, we can manage debt as fast our internet connection will allow and even when we are on the go. While pen and paper are all well and good, some of us just don't have the time to sit and manage a paper budget.
Budgeting apps can be a great resource. You can monitor and improve your finances…right from the palm of your hand.  Let's take a look at 4 of the most talked about apps for budgeting on the go for Canadians.
YNAB is designed to help you stop living from paycheque to paycheque, pay off debt and save more money. It is built on 4 basic rules.
Every dollar has a job. Every dollar is purposely allocated to a goal or an expense. There should be no money left over that needs to be budgeted.

Embrace your true expenses. Not every expense is monthly. You set goals for these large expenses and a date for when the goal needs to be met. YNAB breaks down the expense into monthly amounts and tracks progress.

Roll with the punches. It allows for a level of flexibility because sometimes…stuff happens. You can reallocate funds from one category to cover the unexpected expense in another.

 Spend the money you earned a month ago. In this way, you are never waiting for a paycheque to cover a bill.
If you like this approach to budgeting then do know that they offer a free trial for the first 34 days. However, that only applies to the desktop version of the software. If you sign up for the free trial using a smart device then you will have to provide the payment info and remember to cancel before the trial expires. You can take advantage of the free trial on your desktop and then decide from there if you want to subscribe. While they offer a 'monthly' subscription for $6.99 US per month, it is billed 1 year at a time for a cost of $83.99 US. This does come with a no questions asked money back guarantee. YNAB is not an all-in-one money management tool, meaning you can't pay your bills through it or check your credit score. You will need to look elsewhere to cover those financial bases.

Mint is one of the favourites in the budgeting app market. You are able to connect your bank account, track all withdrawals and deposits as they happen. You can also check your credit score. They provide total visibility, help you set a budget, and keep you accountable with email alerts to warn you when you've overspent. You can track all of your accounts, credit cards and bills in a neat and orderly fashion. The ability to set bill payment reminders will go far to helping you eliminate late payment fees.  Mint collects all of this information for you but you can not use it to transfer money between accounts or make the bill payments. You will still need to use your online banking for that.
Mint is an Intuit product. If you have used TurboTax or Quickbooks, then signing up will be a breeze as you already have an Intuit account.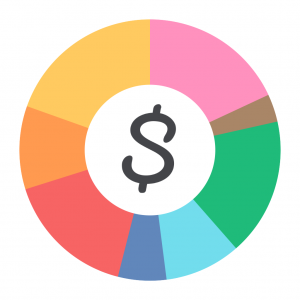 Spendee is a great choice for someone that wants to easily track expenses and stick to a budget. You can also set budget goals and manage bill payments, and it will also track your crypto wallet and E-Wallet. Similar to more advanced apps like Mint, YNAB, and others, the paid version will also link to your bank accounts and provide a thorough overall view of your financial activity. The options for syncing with Canadian banks are fairly slim so do make sure to confirm with them that your bank is supported.
They do offer a free 7-day trial and paid versions will run either US$14.99 or US$22.99 annually.

GoodBudget is based on the envelope style of money management (think Gail Vaz-Oxlade or Dave Ramsey). Take cash for each month's expenses and divide it up for each budget category. You would have one groceries, transportation, and so on, limiting you to the funds in the envelope for that category. If you reach the bottom of the envelope before the end of the time period then you need to need to re-work your budget or exercise some additional discipline with your spending. You are able to sync the account with another user so that you can track what the other is spending. This then becomes more about planning your spending instead of just tracking it. You still need to set up a budget in order to know how much goes in what envelope.
There are two options when subscribing to Goodbudget. Free, which offers a total of 20 envelopes, can be used on 2 devices and keeps one year of history. Plus which offers unlimited envelopes, the ability to sync with up to 5 devices and keeps 7 years of history. It also offers email support whereas the Free package offers community support. The Plus package is $6US/month or $50US/year.
In the end, while the tools themselves are important, it is the skill and dedication of the person using the tool that gets the best result. Your commitment to managing your money is the strongest tool in your arsenal to enacting long-lasting beneficial change.
Disclaimer: This Blog/Web Site is made available by PYLO Finance Inc. for general educational purposes only and you should seek appropriate counsel for your specific situation. This Bog/Web Site should not be used as a substitute for competent advice from licensed professionals and councilors in your province.